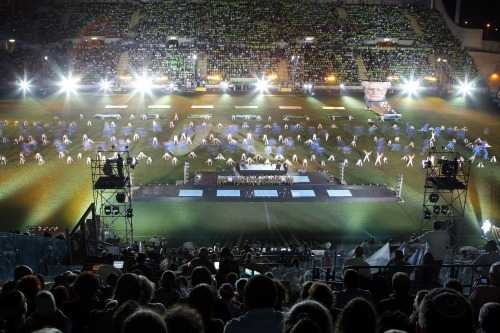 About
One beloved, long-serving mayor. Three football clubs. 21,600 seats. Plenty of notoriety. It all comes together in Teddy Stadium, the cavernous Malcha home of football clubs HaPoel Jerusalem, HaPoel Katamon and, the local black and gold-clad hooligan's choice, Beitar Jerusalem, winners of six league championships and seven State Cups since 1936.

Completed in 1992 after two years of construction, the mighty stadium was longtime mayor Teddy Kollek's parting gift to the city, whose football clubs had long been using the sandy, poorly-constructed pitch at the YMCA (now a luxury housing development). And even though none of our teams were on any winning streaks at the time, Jerusalemites deserved the amenities of a modern stadium, which included ample seating, nearly-ample parking, handicap access, functional restrooms and copious concession stands.

In addition to the home games of the aforementioned football clubs, Teddy has hosted several other large-scale events, from the 2001 Maccabiah to Independence Day air shows. So head on down, grab a kebab and a Malty, and get roudy with 21,000 of your closest friends.


We thought you might like this

The Jerusalem Tourism Map:
Print