Welcome to Little House in the Colony Hotel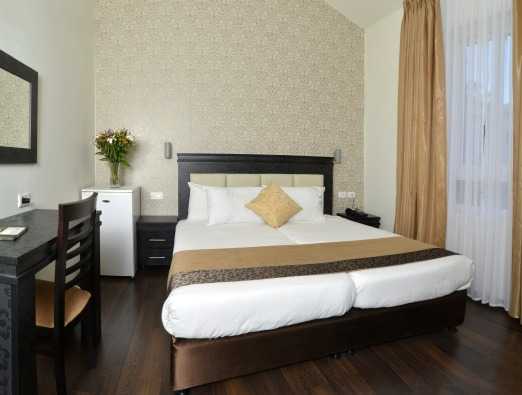 From
$129
About
The Little House in the Colony guesthouse allows visitors to Jerusalem to experience one of the lovelier quarters of Jerusalem: the German Colony, home to a thriving community of Anglophone expatriates as well as some of the city's finest shopping, culture and dining. Guests will feel as if they themselves were German Colony residents, with the Little House in the Colony's homey Jerusalem-style accommodations and dedicated service.
Within walking distance are the multitude of shops, cafes and eateries of Emek Refaim, as well as many of Jerusalem's finest theaters and the sights of the Old City. 21 rooms run the gamut from singles to large family units (there's even a honeymoon suite), with standard amenities for the price range (AC, bathtubs, cable television and answering machine-equipped phones). Guests should also appreciate the kosher dining room with daily Israeli breakfast, free parking, free Wi-Fi throughout the hotel and a furnished lobby perfect for meetings of all kinds.
Facilities
Luggage storage
Dry cleaning
Free Wifi
Tour desk
Heating
Air conditioning
Ironing service
Choose this hotel if
You're looking for B&B-style accommodations
You want to take advantage of all the wonderful restaurants and shopping opportunities in the German Colony
You'd like to be within a 25-minute walk of the Old City
You don't mind a longer walk (or a cab or bus ride) to downtown Jerusalem
You like your wireless Internet free of charge
Keep in mind
Booking your hotel room with GoJerusalem.com entitles you a host of money-saving benefits designed to maximize your enjoyment of your stay in Jerusalem. Your GoJerusalem.com-exclusive benefits include:
Free gift packets, including our useful maps and our quarterly guide book.
Free use of our phone-based concierge service for real-time advice from GoJerusalem.com staff experts for the duration of the visit.
Exclusive discounts on the top tours and attractions in Jerusalem and all of Israel. And more!



Little House in the Colony Hotel Map
4A Lloyd George St
Near Little House in the Colony Hotel
What you should really know
No results to show


The Jerusalem Tourism Map:
Print