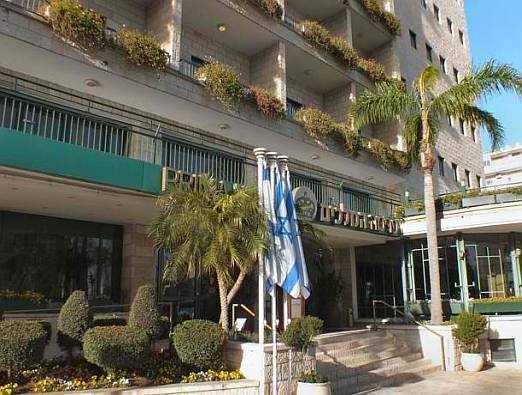 From
$140
About
The Prima Kings Hotel is located at one of central Jerusalem's busiest plazas, France Square, at the intersection of Agron, Azza, Ramban, King George and Keren Hayesod streets - which means guests find themselves happily equidistant from the German Colony and downtown, and only a stone's throw away from the many fine cafes and restaurants of Azza Street, the main thoroughfare of Rechavia.
Many of the hotel's 214 rooms come with porches, each adorned with red flowers that give the building a picturesque façade in the afternoon light. An art gallery and a gift shop are housed in the Prima Kings Hotel's glassed-in first floor. The hotel kitchen is glatt-mehadrin kosher and a synagogue is located on its mezzanine. The hotel is particularly well-suited for business travelers and companies hosting functions in Jerusalem, with multiple meeting rooms and projection equipment available onsite.
Facilities
Laundry
Dry cleaning
Free Wifi
Fax / photocopying
Lift/elevator
Heating
Air conditioning
Bar
Paid Parking
Choose this hotel if
You want to be within a modest walk of the Old City
You want to be near the city center
You want to be only a few minutes away from the bustling German Colony and its many restaurants and shopping options
You want to be near the many pleasant cafes of Azza St.
You're traveling for business or organizing a business conference in Jerusalem
You require glatt kosher meals in the hotel
Keep in mind
Booking your hotel room with GoJerusalem.com entitles you a host of money-saving benefits designed to maximize your enjoyment of your stay in Jerusalem. Your GoJerusalem.com-exclusive benefits include:
Free gift packets, including our useful maps and our quarterly guide book.
Free use of our phone-based concierge service for real-time advice from GoJerusalem.com staff experts for the duration of the visit.
Exclusive discounts on the top tours and attractions in Jerusalem and all of Israel. And more!


Prima Kings Hotel Map
60 King George St
Near Prima Kings Hotel
2000+ tips and recommendations
No results to show



The Jerusalem Tourism Map:
Print