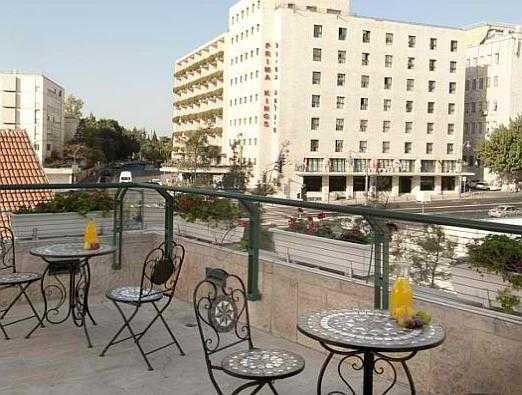 About
The Agron Jerusalem Guest House Youth Hostel is perfectly located for visitors to the city who want to be ten minutes' walk from the four quarters of Jerusalem's historic Old City.
A variety of accommodation is offered from private rooms to dormitories with all rooms fitted with air conditioning, satellite TV, fridge and a hot drinks corner with tea and coffee making facilities. As well as being a close walk to the Old City, the Agron Guest House is also within ten minutes of the impressive Great Synagogue on King George Street and a similar distance to the town center. The new luxurious Mamilla Shopping Mall is also only five minutes' walk away at the bottom of Agron Street.
A supermarket is also located directly opposite the Guest House as well for those looking to buy foods for packed lunches for walking tours of the city.
The guest house has two dining rooms and serves up a daily traditional Israeli breakfast with eggs, cheese, salads and bread.
Facilities
Laundry
Free Wifi
Facilities for disabled guests
Lift/elevator
Heating
Air conditioning
Family rooms
Paid Parking
Choose this hotel if
You want to be ten minutes' walk from the Old City.
You want to be located near to the city center.
You want a supermarket nearby but also have a range of great restaurants five minutes away.
You want to share a dormitory room and keep your costs down.
You want an Israeli breakfast included in the price.
Keep in mind
Booking your hotel room with GoJerusalem.com entitles you a host of money-saving benefits designed to maximize your enjoyment of your stay in Jerusalem. Your GoJerusalem.com-exclusive benefits include:
Free gift packets, including our useful maps and our quarterly guide book.
Free use of our phone-based concierge service for real-time advice from GoJerusalem.com staff experts for the duration of the visit.
Exclusive discounts on the top tours and attractions in Jerusalem and all of Israel. And more!


Agron Guesthouse Map
6 Agron St
Near Agron Guesthouse
2000+ tips and recommendations
No results to show



The Jerusalem Tourism Map:
Print