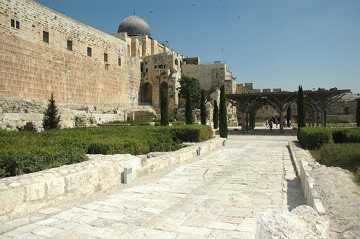 About
Israeli archaeology museum curators have it good. Most museums around the world, particularly those specializing in the artifacts and culture of the ancient world, have to spend millions of dollars and plumb the byzantine networks of antiquities dealers to fill up their exhibitions. But Israel is so bursting with ancient history that all a museum needs to do is rope off an area and lead tours through it.
Such is the modus operandi of The Jerusalem Archaeological Park, also known as the Archaeological Garden, which researches and displays the many layers of archaeological discoveries made in Jerusalem's Old City, from Canaanite to Mameluke periods (and everything in between). The park encompasses outdoor displays around the Temple Mount, in the Valley of Hinnom, and up to the slopes of the Mount of Olives. Indoor types can enjoy the on-site Davidson Center, a museum of Jerusalem's multi-period history which literally lets you descend through the tiers of time.
At the bottom, your reward is a cheesy cinematic collision of live acting and CGI animation detailing life during the Second Temple Period in the Holy City.
Facilities
Opening Hours
Sunday to Thursday 8:00 to 17:00; Friday 8:00 to 14:00
The Archaeological Park Map
Dung Gate


We thought you might like this

The Jerusalem Tourism Map:
Print