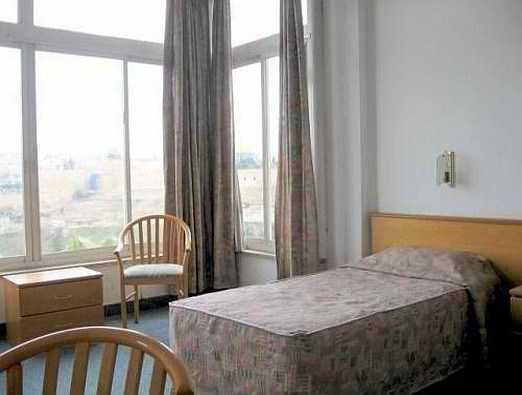 About
One of several budget-priced two-star lodging options in the Mount of Olives area, the Jerusalem Panorama Hotel comes by its titular panorama thanks to its location at the top of the Garden of Gethsemane, overlooking the Temple Mount and the rest of the Old City.
The Jerusalem Panorama Hotel's 65 rooms are spartan, but comfortable - those seeking excessive pampering won't find it here, but those looking to save on hotel costs without sacrificing a highly convenient proximity to the Old City will be quite pleased. Guests can score a free breakfast every day in the hotel's dining room, located on the building's sixth floor, which allows for glorious breakfast views of the Old City out the windows. Public transport and cabs are easily accessible for trips further afield into the city.
Facilities
Babysitting/child services
Laundry
Dry cleaning
Free Wifi
Free Parking
Fax / photocopying
Heating
Air conditioning
Ironing service
Restaurant
Keep in mind
Booking your hotel room with GoJerusalem.com entitles you a host of money-saving benefits designed to maximize your enjoyment of your stay in Jerusalem. Your GoJerusalem.com-exclusive benefits include:
Free gift packets, including our useful maps and our quarterly guide book.
Free use of our phone-based concierge service for real-time advice from GoJerusalem.com staff experts for the duration of the visit.
Exclusive discounts on the top tours and attractions in Jerusalem and all of Israel. And more!


Jerusalem Panorama Hotel Map
Ras El Amoud
Near Jerusalem Panorama Hotel
2000+ tips and recommendations
No results to show



The Jerusalem Tourism Map:
Print