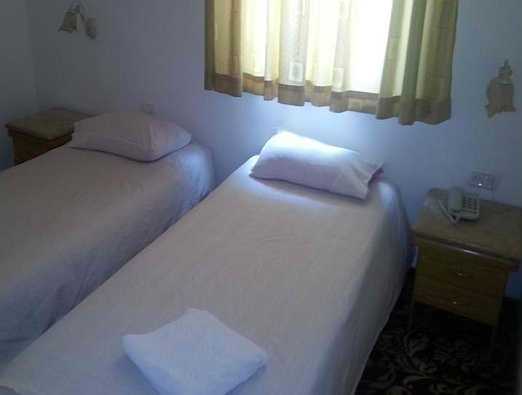 About
For Jerusalem visitors who want to be right in the center of Jerusalem's thriving restaurant and nightlife scene, and don't have any particularly attachment to the luxuries of more expensive hotels, it's hard to beat the Zion Hotel.
The hotel takes its name from Zion Square, the very center of the city, which lies mere steps away. And that means guests will also be minutes (or less) away from the other attractions of the city center, including the historic alleys of Nachalat Shiva (now a restaurant/nightlife zone), the Ben Yehuda pedestrian mall, and more. The Old City is only ten minutes away.
Many of the hotel's 26 rooms feature balconies, affording guests a unique view of the downtown bustle. And hotelwide Wi-Fi is free.
Facilities
Smoking Area
Luggage storage
Babysitting/child services
Laundry
Dry cleaning
Free Wifi
Tour desk
Fax / photocopying
Non-smoking rooms
Safety deposit box
Heating
Air conditioning
Room service
Outdoor pool (seasonal)
Fitness centre
Restaurant
Bar
Choose this hotel if
You want to be right in the heart of bustling downtown Jerusalem
You're looking for one of downtown's most affordable rooms
You want to be in the thick of Jerusalem nightlife with the lively Rivlin, Shlomtzion HaMalka and Ben Sira streets only steps away
You'd like to be an easy ten minute walk down Jaffa Road from the Old City
You like your Wi-Fi free
Keep in mind
Booking your hotel room with GoJerusalem.com entitles you a host of money-saving benefits designed to maximize your enjoyment of your stay in Jerusalem. Your GoJerusalem.com-exclusive benefits include:
Free use of our phone-based concierge service for real-time advice from GoJerusalem.com staff experts for the duration of the visit.
Exclusive discounts on the top tours and attractions in Jerusalem and all of Israel. And more!


Zion Hotel Map
10 Dorot Rishonim St
Near Zion Hotel
2000+ tips and recommendations
No results to show



The Jerusalem Tourism Map:
Print