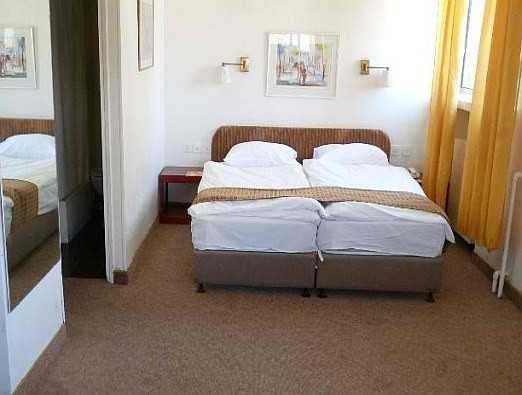 About
The Palatin Hotel is located on the lower portion of Agrippas St., which was closed off to traffic in 2003 in order to broaden downtown Jerusalem's pedestrian mall area. Like all city center lodging options, the Palatin Hotel is just a short walk from the Machane Yehuda market and the Old City as well.
The Palatin Hotel is a small European-style lodging option that allows pets and offers a small breakfast buffet, city maps and hot drinks included with the room rates. The rooms are air-conditioned and have their own ceiling fans, bathrooms, hair dryers, wireless internet access and color televisions.
Facilities
Free Wifi
Airport shuttle (surcharge)
Fax / photocopying
Air conditioning
Newspapers
Family rooms
Restaurant
Paid Parking
Choose this hotel if
You want to be right in the heart of bustling downtown Jerusalem
You want an affordable room
You're willing to take an enjoyable, scenic 15-minute walk to the sights of Old City
You want to be seconds away from Jerusalem's nightlife district (no cabs back to the hotel needed)
You're traveling on a budget - with very reasonable room rates and the rock-bottom food prices of the nearby Machane Yehuda market, you'll save a bundle
Keep in mind
Booking your hotel room with GoJerusalem.com entitles you a host of money-saving benefits designed to maximize your enjoyment of your stay in Jerusalem. Your GoJerusalem.com-exclusive benefits include:
Free gift packets, including our useful maps and our quarterly guide book.
Free use of our phone-based concierge service for real-time advice from GoJerusalem.com staff experts for the duration of the visit.
Exclusive discounts on the top tours and attractions in Jerusalem and all of Israel. And more!


Palatin Hotel Map
4 Agrippas St
Near Palatin Hotel
2000+ tips and recommendations
No results to show



The Jerusalem Tourism Map:
Print