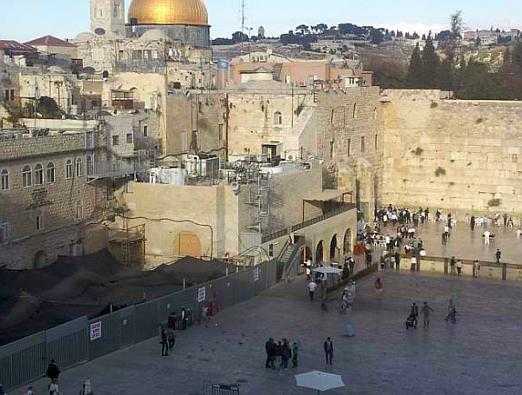 About
Perfect for back packers and travelers who want to stay in the heart of the Old City of Jerusalem, the Chain Gate Hotel is located a 3 minute walk to the Via Dolorosa and around 5 minutes to the Western Wall. The hostel is also only a 7 minute walk from the Jaffa Gate which looks out to the modern vibrant city and the new luxury Mamilla shopping mall.
Made entirely from Jerusalem stone the hostel has a traditional Mediterranean feel including a relaxing lounge area. Guests are welcome to make use of a shared kitchen including fridge, with a washing machine also available on site for an extra charge. Wi-Fi is free throughout the hostel. Viistors hoping to taste some local cuisine will not be disappointed, with authentic shawarma, humus and kebab restaurants in good supply and close by!
The hostel is a great location to soak up the different vibe in the four quarters of the Old City. With its winding alleyways and streets, Jerusalem is the center of the world for the three Abrahamic religions and has been a site of pilgrimage for thousands of years. One can spend an entire day weaving in and out of markets, alleyways and behind each turn an historic surprise awaits even more exciting than the last!
Facilities
Laundry
Safety deposit box
Heating
Air conditioning
Ironing service
Family rooms
Paid Parking
Choose this hotel if
You want to be in the Old City.
You want to be near restaurants.
You want to be near to great historical and cultural sites.
You want a hostel with a washing machine.
Keep in mind
Booking your hotel room with GoJerusalem.com entitles you a host of money-saving benefits designed to maximize your enjoyment of your stay in Jerusalem. Your GoJerusalem.com-exclusive benefits include:
Free gift packets, including our useful maps and our quarterly guide book.
Free use of our phone-based concierge service for real-time advice from GoJerusalem.com staff experts for the duration of the visit.
Exclusive discounts on the top tours and attractions in Jerusalem and all of Israel. And more!

Chain Gate Hostel Map
Bab Al-Silsileh St
Near Chain Gate Hostel
2000+ tips and recommendations
No results to show



The Jerusalem Tourism Map:
Print