Welcome to Crowne Plaza Jerusalem Hotel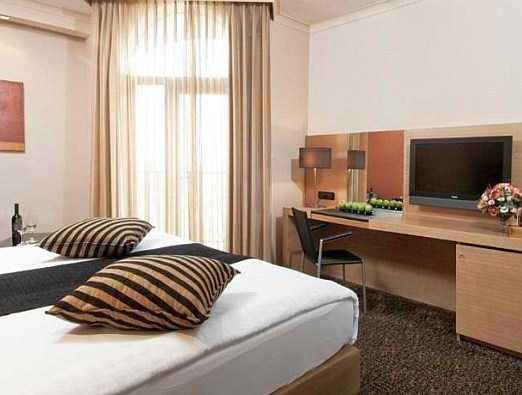 About
The Jerusalem Crowne Plaza is one of the city's tallest buildings. Its 400 rooms offer panoramic views of nearly all the city. Located at the city entrance, many of Jerusalem's important stops are nearby, including the Knesset, the Supreme Court, Gan Sacher (Jerusalem's much smaller equivelent of Central Park), the Machane Yehuda market and multiple dining options.
Services include a pool (heated and covered in winter), a business center, conferences and events, religious services, parking, travel and rental services through the concierge and Jerusalem's own Kohinoor Restaurant, serving kosher Indian meat cuisine.
Facilities
Luggage storage
Babysitting/child services
Laundry
Dry cleaning
Free Wifi
Fax / photocopying
Safety deposit box
Heating
Air conditioning
Newspapers
Outdoor pool (seasonal)
Fitness centre
Restaurant
Bar
Paid Parking
Keep in mind
Booking your hotel room with GoJerusalem.com entitles you a host of money-saving benefits designed to maximize your enjoyment of your stay in Jerusalem. Your GoJerusalem.com-exclusive benefits include:
Free gift packets, including our useful maps and our quarterly guide book.
Free use of our phone-based concierge service for real-time advice from GoJerusalem.com staff experts for the duration of the visit.
Exclusive discounts on the top tours and attractions in Jerusalem and all of Israel. And more!


Crowne Plaza Jerusalem Hotel Map
Ahaliya 1 Givat Ram
Near Crowne Plaza Jerusalem Hotel
2000+ tips and recommendations
No results to show



The Jerusalem Tourism Map:
Print