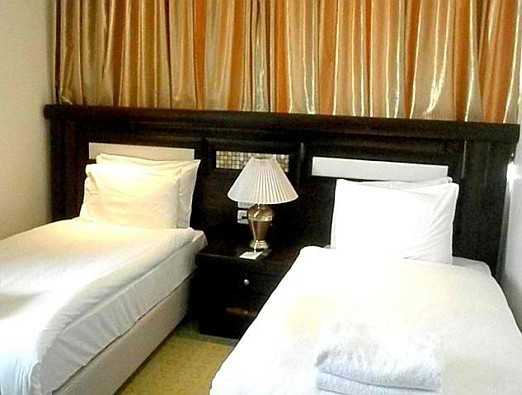 About
Staying at the Commodore Hotel is a bit like traveling back in time to an older Jerusalem before the age of the five star hotel, when simple, almost spartan rooms in modest hotels were what most visitors could expect. Still, there's some appeal in going back to basics - especially when the basics put you mere steps away from the Old City for a fraction of the cost of fancier lodging.
Located at the foot of the Mount of Olives, the Commodore Hotel is within walking distance of Jerusalem's Old City and many other significant religious and cultural sites. The rooms, while simply furnished, offer telephone, air conditioning, color TV and free wireless internet - a step ahead of many Jerusalem hotels that are still lagging on the hi-tech front. Parking is provided and guests have access to a meeting room, conference and banquet halls and a coffee shop. A self-service buffet restaurant is open daily during lunchtime hours.
Facilities
Meeting/banquet facilities
Laundry
Dry cleaning
Free Wifi
Airport shuttle (surcharge)
Free Parking
Fax / photocopying
Lift/elevator
Restaurant
Bar
Choose this hotel if
You want to be within easy walking distance of the Old City
You want to be close to the neighborhoods and attractions of eastern Jerusalem
You're in the market for one of the city's most affordable rooms
You like your wireless Internet free of charge
Keep in mind
Booking your hotel room with GoJerusalem.com entitles you a host of money-saving benefits designed to maximize your enjoyment of your stay in Jerusalem. Your GoJerusalem.com-exclusive benefits include:
Free gift packets, including our useful maps and our quarterly guide book.
Free use of our phone-based concierge service for real-time advice from GoJerusalem.com staff experts for the duration of the visit.
Exclusive discounts on the top tours and attractions in Jerusalem and all of Israel. And more!


Commodore Hotel Map
Samuel Ben Adaya St
Near Commodore Hotel
2000+ tips and recommendations
No results to show



The Jerusalem Tourism Map:
Print