The Jerusalem Segway Private Tour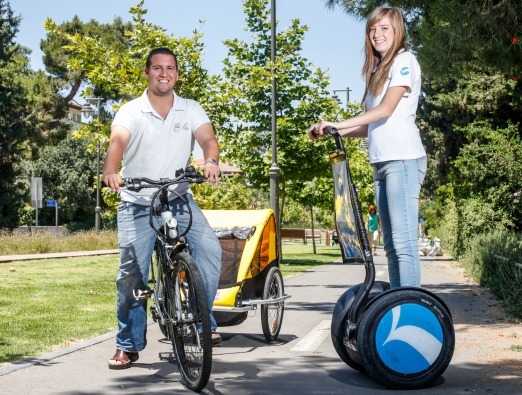 About
Highlights:

Great for family outings or group touring
Easy to Drive
Helmets included
Explore Jerusalem in the open air
See the sights that normal tourists don't get to see
Description:


Included
Cruise around Jerusalem on a Segway, the fun new way to sightsee and enjoy the rush of cruising on a bike but without the effort.
The Armon Hanatsiv Private Promenade Tour, which lasts approximately two hours, offers a breathtaking view of Jerusalem and its environs. The Armon Hanatziv Promenade is actually 3 different linked promenades - the Haas and Sherover Promenades in the West and the Goldman Promenade in the East. They were all built in the 1980's as part of Jerusalem's development and renewal. Giving a great vantage point to see the scenary of Jerusalem and its surroundings, you will be guided around the promedade's greenery lined pathways unbothered by motorized vehicles which are not allowed into the area. Each tour starts near the Hass Promenade in the Armon Hanatziv neighborhood. You'll see unparalled views of the Old City of Jerusalem, the Mount of Olives, the Judean Desert and much more on this tour. Please note that Segways may not be driven by children under 16 years of age or pregnant women.
Place
Armon Hanatsiv tours depart from the community center of Armon Hanatsiv which is located accross the street from Oley Hagardom 13.
Additional information
Suitable for people from 16 years and not older than 70 years
Maximum weight 260 Pound / 130 KG
Pregnant Women are not allowed
Please arrive 15 minutes prior to the start of your tour for orientation and instruction on driving a segway.

The Jerusalem Segway Private Tour Map



The Jerusalem Tourism Map:
Print