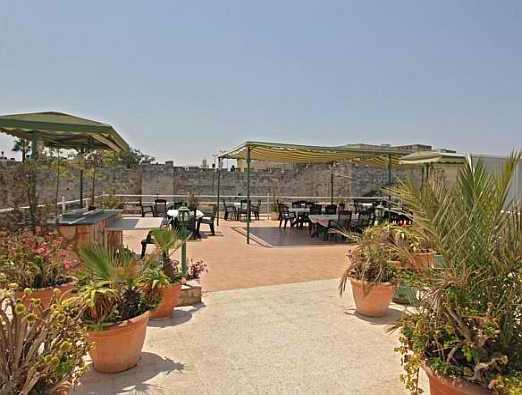 About
Combining comfort with splendor, the Golden Walls Hotel is located a short walk from the Damascus Gate of Jerusalem's Old City. This prime location means that guests planning to take in the sites will be within a ten minute walk of the Via Dolorosa and around fifteen minutes from the Temple Mount and the Western Wall. The hotel has 120 rooms which are extremely comfortable with carpets and rugs and a warm Middle Eastern style which permeates the hotel's interior.
Rooms are air-conditioned, have satellite flatscreen TV, a writing desk and modern private bathroom. Most guests will also be gifted a balcony with some great views of the Old City's golden walls.
The hotel's restaurant serves great tasting international cuisine. Due to its location in the heart of the Arab area of city, there are also many Mediterranean restaurants nearby as well!
Ben Gurion International Airport is a 45-minute drive away, and a shuttle service can be arranged.
Facilities
Meeting/banquet facilities
Free Wifi
Free Parking
Fax / photocopying
Lift/elevator
Safety deposit box
Air conditioning
Restaurant
Bar
Choose this hotel if
You want to be right next to the old City.
You want to be in the Arabic area of the city.
You want a hotel with a Business Center.
You want private parking on site.
You want to be within 45 minutes of Ben Gurion Airport.
Keep in mind
Booking your hotel room with GoJerusalem.com entitles you a host of money-saving benefits designed to maximize your enjoyment of your stay in Jerusalem. Your GoJerusalem.com-exclusive benefits include:
Free gift packets, including our useful maps and our quarterly guide book.
Free use of our phone-based concierge service for real-time advice from GoJerusalem.com staff experts for the duration of the visit.
Exclusive discounts on the top tours and attractions in Jerusalem and all of Israel. And more!


Golden Walls Hotel Map
Sultan Suleiman St
Near Golden Walls Hotel
2000+ tips and recommendations
No results to show



The Jerusalem Tourism Map:
Print