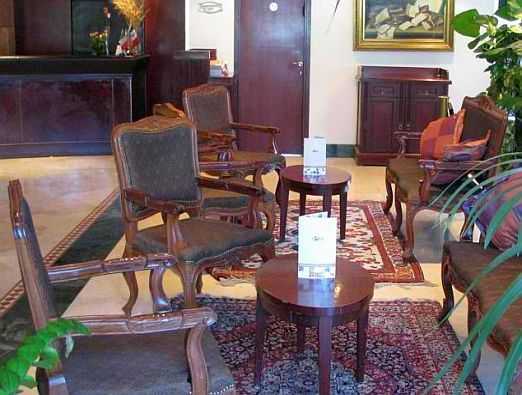 From
$256
About
Located inside a recently renovated building behind the Jerusalem Central Bus Station, the Jerusalem Gold Hotel offers everything the solo, family or business traveler needs at an affordable price, with convenient proximity to the hub of Israel's national bus network. Nearly 200 rooms, updated with mahogany decor, suit all budgets and needs, and guests are free to explore a host of other amenities: a fully equipped business lounge, a bar, a patio coffee shop, and rooms for celebrations, meetings and family functions.
Perhaps the hotel's greatest asset is its convenience to both the Central Bus Station, hub of travel to all corners of the country, and the Binyanei HaUma International Convention Center across the street. While the sights of downtown and the Old City are slightly beyond comfortable walking distance, a cab or a bus are only seconds away.
Facilities
Laundry
Dry cleaning
Fax / photocopying
Facilities for disabled guests
Lift/elevator
Safety deposit box
Air conditioning
VIP room facilities
Bar
Paid Parking
Choose this hotel if
You want to be near the Central Bus Station, gateway to Israel
You want access to a full-sized pool and health club
You'd like to be near the International Convention Center
You don't mind taking a cab or bus to downtown Jerusalem or the Old City
Keep in mind
Booking your hotel room with GoJerusalem.com entitles you a host of money-saving benefits designed to maximize your enjoyment of your stay in Jerusalem. Your GoJerusalem.com-exclusive benefits include:
Free gift packets, including our useful maps and our quarterly guide book.
Free use of our phone-based concierge service for real-time advice from GoJerusalem.com staff experts for the duration of the visit.
Exclusive discounts on the top tours and attractions in Jerusalem and all of Israel. And more!


Jerusalem Gold Hotel Map
234 Jaffa St
Near Jerusalem Gold Hotel
2000+ tips and recommendations
No results to show



The Jerusalem Tourism Map:
Print