Welcome to Te'enim Restaurant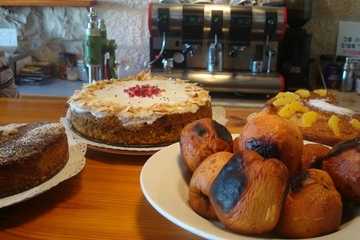 About
Israel is an interesting country for vegetarians. While Israel's many kosher dairy restaurant options and nearly all-vegetarian street food mean that traveling vegetarians will never be forced to go hungry, Israelis' attitude towards vegetarianism often aligns with the "How can you not eat meat?" school. But fortunately for the herbivores, Jerusalem has become home to an increasing number of restaurants catering exclusively to the vegetarian palate, meaning no more extensive orders from the salads menu.
Among the more veteran locales of the Jerusalem vegetarian scene is Te'enim ("figs"), ensconced in the historic Yemin Moshe neighborhood behind the King David hotel, offering views of the Old City's walls along with a creative menu of vegetarian and vegan options.
Israelis love a good bit of fusion, and Te'enim doesn't disappoint, offering soups, salads, sandwiches and main dishes hailing from the Levant to the Orient and everywhere in between, including an attractive variety of tofu dishes.

Te'enim Restaurant Map
12 Emile Bota St. Confederate House
Near Te'enim Restaurant
2000+ tips and recommendations
No results to show



The Jerusalem Tourism Map:
Print