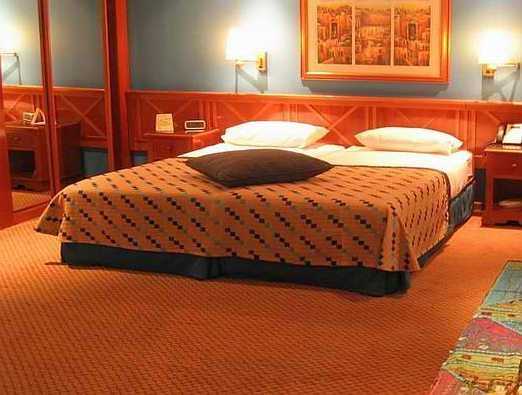 About
For the traveler who wants to be near the Old City of Jerusalem without sacrificing quality lodging, the Olive Tree Hotel is hard to beat: a large and modern four-star hotel with all the expected amenities only a short walk away from the Damascus Gate. An access alleyway running parallel to Route 1, which was the border between Israel and Jordan until 1967, St. George St., part of the American Colony neighborhood, was built as a row of hotels in anticipation of the millennium tourist boom.
The Olive Tree Hotel is among the finest of this crop of modern-day American Colony hotels. Completed in 2000, the eight-story hotel boasts 304 rooms, ranging from single rooms to luxurious executive suites. The hotel lies about halfway between Damascus Gate and French Hill (roughly a ten minute walk to each), as well as quite near to the Orthodox enclaves of Meah Shearim and Maalot Dafna. There's no pool, but the Olive Tree Hotel does offer free wireless internet access and a safe in every room. The hotel offers dining options (including daily Israeli breakfast) in both the main dining room and the pleasant garden courtyard, and a fully-equipped bar for guests.
Facilities
Luggage storage
Dry cleaning
Free Parking
Lift/elevator
Safety deposit box
Heating
Air conditioning
Newspapers
Ironing service
Family rooms
Restaurant
Bar
Choose this hotel if
You want to be within easy walking distance of the Old City
You want to be close to Meah She'arim Ultra-Orthodox enclave and the artsy Musrara neighborhood
You want free hotel-wide wireless Internet
Keep in mind
Booking your hotel room with GoJerusalem.com entitles you a host of money-saving benefits designed to maximize your enjoyment of your stay in Jerusalem. Your GoJerusalem.com-exclusive benefits include:
Free gift packets, including our useful maps and our quarterly guide book.
Free use of our phone-based concierge service for real-time advice from GoJerusalem.com staff experts for the duration of the visit.
Exclusive discounts on the top tours and attractions in Jerusalem and all of Israel. And more!


Olive Tree Hotel Map
23 St. George St
Near Olive Tree Hotel
2000+ tips and recommendations
No results to show



The Jerusalem Tourism Map:
Print