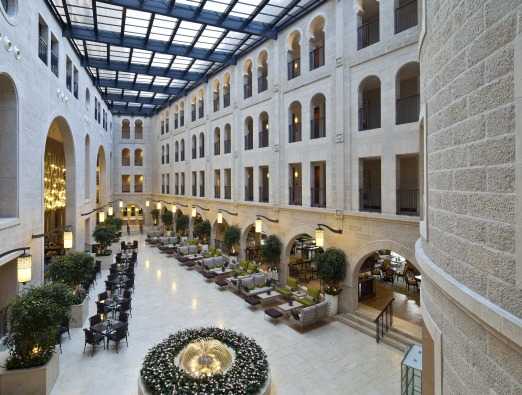 About
The Hilton-backed Waldorf-Astoria at the site of the historic Palace Hotel on the corner of King David and Agron St. has officially opened as of April 2014, boasting a new standard in luxury and pampering. The 226-room facility houses ten floors floors, several restaurants, and a corperate wing with nine conference rooms and a grand ballroom which can host up to 800 guests. By 2015, the hotel will also include two swimming pools, two double saunas (wet and dry), two health clubs, and a luxurious spa.

In preparation for the extensive renovations, the structure was completely gutted, with the detailed outer walls, now a mere facade, serving as the only remnants of the original building. Despite its decrepit appearance before renovations, the former Palace Hotel was one of Jerusalem's most beautiful buildings, with numerous carvings designed as an amalgamation of Moorish, Roman and Arab architecture.

The Reichmann magnates purchased the structure from the Israeli government, closed a management deal with Hilton hotels, and together invested over $100 million in the development and branding of the refurbished hotel, which is now the latest branch of the Waldorf-Astoria chain.
Facilities
Choose this hotel if
You want to be right up the street from the Old City
You expect unparalleled luxury and a high level of personal service
You'd like access to one of the city's finest health club/spa complexes
You want to be an easy walk from the shopping and nightlife of downtown Jerusalem
You'd like to be confronted with an amazing Jerusalem view nearly everywhere you turn
You'd like to dine at one of Jerusalem's best restaurants - without having to leave the hotel
Keep in mind
Booking your hotel room with GoJerusalem.com entitles you a host of money-saving benefits designed to maximize your enjoyment of your stay in Jerusalem. Your GoJerusalem.com-exclusive benefits include:
Free gift packets, including our useful maps and our quarterly guide book.
Free use of our phone-based concierge service for real-time advice from GoJerusalem.com staff experts for the duration of the visit.
Exclusive discounts on the top tours and attractions in Jerusalem and all of Israel. And more!