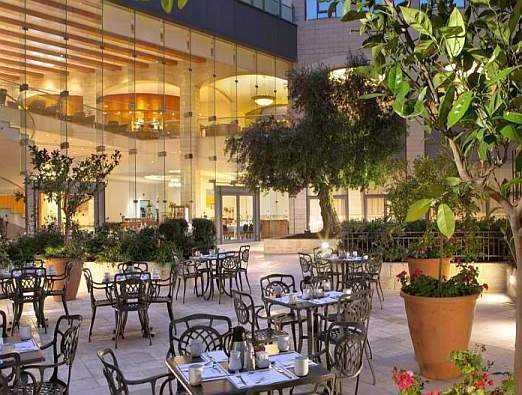 From
$135
About
Part of the Saint George Street hotel row, the Grand Court hotel is among the larger hotels in eastern Jerusalem, boasting four-star service and over 440 rooms - a tally that includes its 13 suites and two presidential suites - as well as one of the best values in the Jerusalem hotel world, offering the same amenities as other hotels in its class at a more affordable price.
Guests at the Grand Court can take advantage of a sunny outdoor lounge with tables and drink service, a fitness center, a large outdoor poor, a sauna and professional massage treatments. The Israeli-style breakfast buffet is free every morning. The TVs in the rooms sport multiple movie channels and every room comes equipped with a self-service coffee corner and a hair dryer. The Old City's Damascus Gate and the lovely French Hill neighborhood are only a few minutes away on foot in either direction.
Facilities
Luggage storage
Laundry
Dry cleaning
Free Wifi
Free Parking
Fax / photocopying
Heating
Air conditioning
Ironing service
Fitness centre
Restaurant
Bar
Choose this hotel if
You want to be within easy walking distance of the Old City
You want to be close to Meah She'arim Ultra-Orthodox enclave and the artsy Musrara neighborhood
You want access to a full-sized pool and health club
You don't mind paying reasonable rates for high-speed wireless internet access
Keep in mind
Booking your hotel room with GoJerusalem.com entitles you a host of money-saving benefits designed to maximize your enjoyment of your stay in Jerusalem. Your GoJerusalem.com-exclusive benefits include:
Free gift packets, including our useful maps and our quarterly guide book.
Free use of our phone-based concierge service for real-time advice from GoJerusalem.com staff experts for the duration of the visit.
Exclusive discounts on the top tours and attractions in Jerusalem and all of Israel. And more!

Grand Court Hotel Map
15 Saint Georges St
Near Grand Court Hotel
2000+ tips and recommendations
No results to show



The Jerusalem Tourism Map:
Print