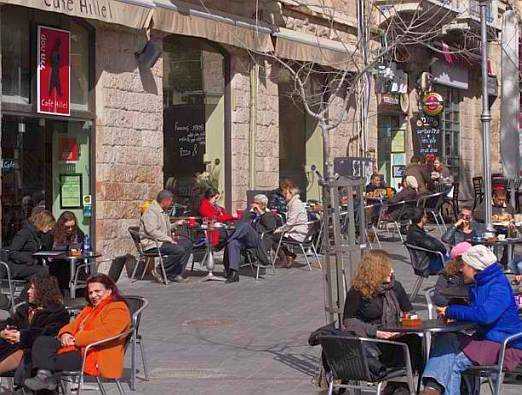 About
Perfectly located for those seeking accommodation in the heart of the city center, the Jerusalem Little Hotel is situated on the busy but now pedestrianized Jaffa Street.
The modern light railway connects to the Central Bus Station in 10 minutes and the Old City in two minutes with another 5 minutes' walk until you are walking through the archways of Jaffa Gate. Jerusalem's Mahane Yehuda Market is also less than a ten minute walk away or one stop on the light rail.
Each room has Wi-Fi, is carpeted and has a balcony complete with table and chairs overlooking the tree lined pedestrianized road below. A shower room also included as well as a cooling fan for the summer time.
A continental breakfast is served every morning in a shared kitchen which is free for all guests to use.
Facilities
Choose this hotel if
You want to be located in the heart of the city center.
You want to be near many restaurants of all kinds.
You want to be near public transport to connect you with all parts of the city.
You want use of a kitchen and cooking facilities.
You want to be within 15 minutes' walk of the Old City.
Keep in mind
Booking your hotel room with GoJerusalem.com entitles you a host of money-saving benefits designed to maximize your enjoyment of your stay in Jerusalem. Your GoJerusalem.com-exclusive benefits include:
Free gift packets, including our useful maps and our quarterly guide book.
Free use of our phone-based concierge service for real-time advice from GoJerusalem.com staff experts for the duration of the visit.
Exclusive discounts on the top tours and attractions in Jerusalem and all of Israel. And more!


Jerusalem Little Hotel Map
40 Jaffa St
Near Jerusalem Little Hotel
2000+ tips and recommendations
No results to show



The Jerusalem Tourism Map:
Print