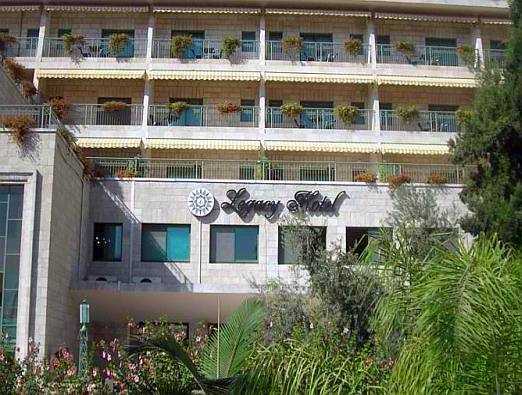 About
Located in the eastern part of Jerusalem, the Legacy Hotel is within walking distance of the Old City and other notable areas. Guests who relish Jerusalem panoramas will be pleased to note that all rooms overlook the Old City or the modern district of Jerusalem. Originally a YMCA, the hotel now offers modern rooms and a free wellness centre with indoor pool.
Each of the Legacy's modern, renovated rooms is air conditioned and comes with free Wi-Fi and an LCD TV with satellite channels. You will also find tea and coffee-making facilities and a fridge. Additional amenities include laundry and dry cleaning services, a fully equipped fitness center (including indoor pool), and meeting and banquet facilities.
Facilities
Laundry
Dry cleaning
Free Wifi
Airport shuttle (surcharge)
Free Parking
Fax / photocopying
Ticket service
Safety deposit box
Heating
Air conditioning
Room service
Ironing service
Restaurant
Choose this hotel if
You want a clean, modern hotel with ample amenities
You want to be within easy walking distance of the Old City
You want to be near Sheikh Jarrah and the other neighborhoods and attractions of eastern Jerusalem
You want free access to a fully equipped fitness and wellness center
You want free hotel-wide wireless Internet and free parking
Keep in mind
Booking your hotel room with GoJerusalem.com entitles you a host of money-saving benefits designed to maximize your enjoyment of your stay in Jerusalem. Your GoJerusalem.com-exclusive benefits include:
Free gift packets, including our useful maps and our quarterly guide book.
Free use of our phone-based concierge service for real-time advice from GoJerusalem.com staff experts for the duration of the visit.
Exclusive discounts on the top tours and attractions in Jerusalem and all of Israel. And more!


Legacy Hotel Map
29 Nablus Road
Near Legacy Hotel
2000+ tips and recommendations
No results to show



The Jerusalem Tourism Map:
Print