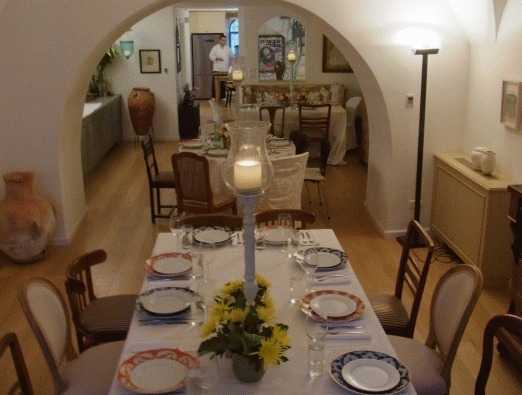 About
Spoons was established in 2005 by chef and designer Hila Solomon, as an exclusive private dining experience in a historic house in the picturesque neighbourhood of Yemin Moshe. Spoons offers an insider's experience of Jerusalem in a breathtaking setting, for brunch, lunch or dinner; ideal for private business meetings and other special events for 8 - 36 guests.

Spoons is not open to the public, but by reservation only. It is kosher with hechsher and mashgiach, offers Friday night Shabbat meals, and is open during Sukkot and Pesach.

Spoons is not just about its superb cuisine, made from the freshest healthy ingredients and its outstanding wine cellar, but about a total experience. Be pampered. Spoons is an exchange of ideas, adventures in food and culture.

Guests enjoy aperitif and cocktail on the large terrace in front of the house overlooking the ancient city walls and on the rooftop terrace that boast a 360 degree view over the Judean desert, Old City and back towards the King David Hotel area.

For reservations call Hila Solomon: 054-654-9716
Facilities
Cultural and Culinary tours
Spoons takes guests on cross cultural adventures:
*In and around Jerusalem to places you only get to know as an 'insider' including markets, chocolate makers, cheese makers and dairies, vineyards.
*Jaffa and Tel Aviv: a 3 day 2 night tour of the north of Israel
Spoons frequently holds events with limited seating where guests dine with some of Israel's leading icons in photographic journalism, musicians, artists, politicians, writers, poets, sports people. You can ask to be added to the mailing list for these events.
Spoons offers the option of a group of people wanting to dine and meet their Israeli counterparts or to request a dining experience with some icon in particular.
Spoons offers shopping tours to 'secret' places in Jerusalem and you can get to meet the artisans or icons in each field.