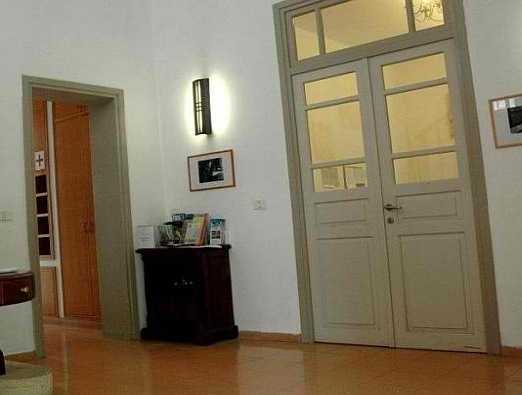 About
Beit Ben Yehuda lies somewhere between a hotel and a hostel - each of the ten rooms inside this converted old stone house features that greatest of hotel luxuries, a private bathroom, but guests can also take advantage of a hostel-style communal kitchen.
Located in Jerusalem's southern Talpiot neighborhood, Beit Ben Yehuda Hotel is a fair distance from the Old City and downtown, each of which are a 30 minute+ walk away - but staying off the beaten path means you'll get plenty of peace and quiet. And considering the affordability and access to a kitchen, Beit Ben Yehuda Hotel is great for people planning longer stays in Jerusalem for whom tourism is not the main concern (and who want accommodations a step up from hostels). Guests can access free Wi-Fi throughout the hotel, as well as a projector-equipped conference room and a reading room.
Facilities
Free Wifi
Airport shuttle (surcharge)
Free Parking
Facilities for disabled guests
Lift/elevator
Heating
Air conditioning
Ironing service
Family rooms
Currency exchange
Choose this hotel if
You're planning a longer-term stay in Jerusalem
You'd like one of Jerusalem's most affordable rooms
You'd like to be near the Talpiot neighborhood's lively club scene and cultural venues
You're not averse to taking public transportation or a cab (or a 30 minute walk) to downtown and the Old City
You like your Wi-Fi free
Keep in mind
Booking your hotel room with GoJerusalem.com entitles you a host of money-saving benefits designed to maximize your enjoyment of your stay in Jerusalem. Your GoJerusalem.com-exclusive benefits include:
Free gift packets, including our useful maps and our quarterly guide book.
Free use of our phone-based concierge service for real-time advice from GoJerusalem.com staff experts for the duration of the visit.
Exclusive discounts on the top tours and attractions in Jerusalem and all of Israel. And more!

Beit Ben Yehuda Hotel Map
28 Ein Gedi St
Near Beit Ben Yehuda Hotel
2000+ tips and recommendations
No results to show



The Jerusalem Tourism Map:
Print