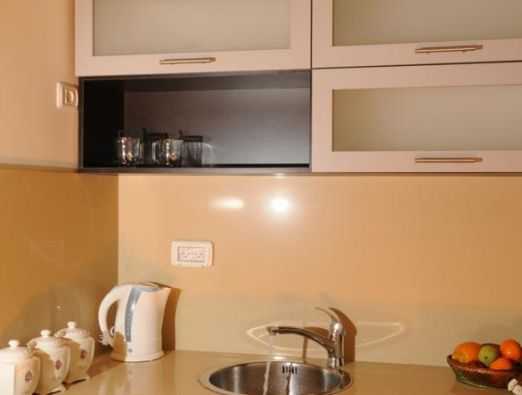 About
Located conveniently mid-way down Jaffa Street - Jerusalem's main pedestrianized broad walk - Levy Apartments offers air conditioned, modern and comfortable accommodation ideal for visitors hoping to soak up the vibe of the modern city. Aside from being home to many shops and cafes, Jaffa Street is also the route for the Jerusalem Light Rail which connects the central bus station to the Jaffa Gate entrance to the Old City in around 12 minutes.
Rooms and studios at the Levy Apartments have a private bathroom with fresh towels and bed linen supplied every day. The apartments also have a great kitchenette, with plenty of stores in the vicinity including a supermarket on nearby King George Street. Free access to Wi-Fi is available throughout and a rooftop terrace presents opportunities for soaking up the summer sun. The colorful and atmospheric Mahane Yehuda Market is the closest site of interest to the apartments with hundreds of market traders eager to sell you their finest fruit, vegetables and wares!
The Old City is a 15 minute walk or a 4 minute ride on the light rail.
Facilities
Free Wifi
Fax / photocopying
Lift/elevator
Heating
Choose this hotel if
You want to be in the city center but within a 15 minute walk from the Old City.
You want to be close to the Mahane Yehuda Open Air Market.
You want to be self-catered.
You want to be 45 minutes from the airport.
Keep in mind
Booking your hotel room with GoJerusalem.com entitles you a host of money-saving benefits designed to maximize your enjoyment of your stay in Jerusalem. Your GoJerusalem.com-exclusive benefits include:
Free gift packets, including our useful maps and our quarterly guide book.
Free use of our phone-based concierge service for real-time advice from GoJerusalem.com staff experts for the duration of the visit.
Exclusive discounts on the top tours and attractions in Jerusalem and all of Israel. And more!

Levy Apartments Map
82 Jaffa st
Near Levy Apartments
2000+ tips and recommendations
No results to show



The Jerusalem Tourism Map:
Print