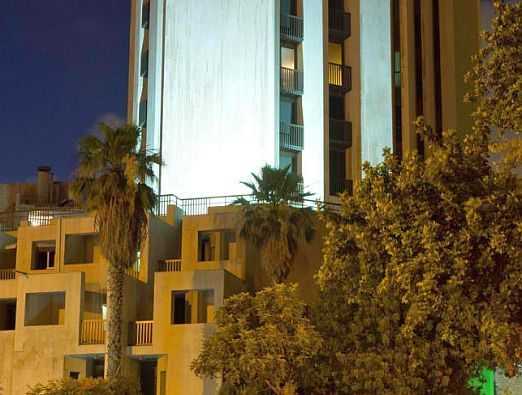 About
The King Solomon Hotel is located very close to the Inbal and the Dan Panorama hotels, but the King Solomon has the advantage of being perched at the top of a hill that looks down past the Yemin Moshe windmill, all the way to the mountains past Amman, the Jordanian capital.
The hotel's very high sun decks and small swimming pool (open only in the summer) provide dramatic views of this panorama, and three dining options are available within the building. Its marble-lined lobby is spacious and its 148 rooms come in five tiers: standard, deluxe (a larger version of standard), superior deluxe (somewhat bigger still), suites (with multiple rooms) and the presidential suite (occupying the entire 14th floor).
Facilities
Laundry
Free Wifi
Free Parking
Lift/elevator
Safety deposit box
Heating
Air conditioning
Restaurant
Bar
Choose this hotel if
You want to be within a modest walk of the Old City
You want to be near the city center
You want to be only a few minutes away from the bustling German Colony and its many restaurants and shopping options
You relish a stunning view of Jerusalem
You've rented a car and could use free parking
Keep in mind
Booking your hotel room with GoJerusalem.com entitles you a host of money-saving benefits designed to maximize your enjoyment of your stay in Jerusalem. Your GoJerusalem.com-exclusive benefits include:
Free gift packets, including our useful maps and our quarterly guide book.
Free use of our phone-based concierge service for real-time advice from GoJerusalem.com staff experts for the duration of the visit.
Exclusive discounts on the top tours and attractions in Jerusalem and all of Israel. And more!


King Solomon Hotel Map
32 King David St
Near King Solomon Hotel
2000+ tips and recommendations
No results to show



The Jerusalem Tourism Map:
Print