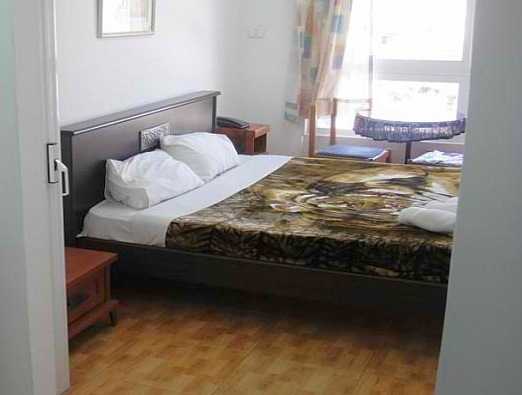 About
Less a hotel than a lodging house, Beit Avital is perfect for travelers on a budget who require rooms more equipped than the average hotel room during longer stays in Jerusalem. Located on Jaffa Road in a historic building across from the Machane Yehuda market, the surroundings are a bit rough and tumble but quite the deal, considering the easy access to the market's bounty and a walk of only a few minutes to the heart of downtown.
Beit Avital's nine rooms, with nice hardwood floors and modest but functional kitchens, come in studio (one bed) and family apartment (four beds) iterations. Continental breakfast, LCD cable TVs and free wireless are included, and travelers without laptops can use the computers in Beit Avital's ground floor cafe.
Facilities
Luggage storage
Free Wifi
Fax / photocopying
Safety deposit box
Heating
Air conditioning
Restaurant
Choose this hotel if
You want to be minutes away from bustling downtown Jerusalem
You're planning a longer stay in Jerusalem and could use access to kitchen facilities
You want an affordable room You're willing to take an enjoyable, scenic 30-minute walk to the sights of Old City
You want to be within walking distance of Jerusalem's nightlife district (no cabs back to the hotel needed)
You're traveling on a budget - with very reasonable room rates and the rock-bottom food prices of the nearby Machane Yehuda market, you'll save a bundle
Keep in mind
Booking your hotel room with GoJerusalem.com entitles you a host of money-saving benefits designed to maximize your enjoyment of your stay in Jerusalem. Your GoJerusalem.com-exclusive benefits include:
Free gift packets, including our useful maps and our quarterly guide book.
Free use of our phone-based concierge service for real-time advice from GoJerusalem.com staff experts for the duration of the visit.
Exclusive discounts on the top tours and attractions in Jerusalem and all of Israel. And more!

Beit Avital Hotel Map
141 Jaffa St
Near Beit Avital Hotel
2000+ tips and recommendations
No results to show



The Jerusalem Tourism Map:
Print