Kalabat Purim at Beit Avi Chai at 05.03.2014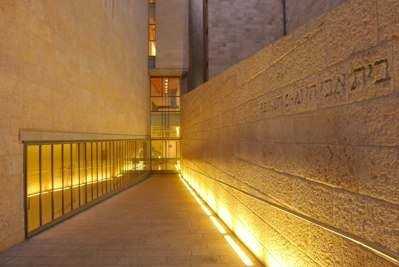 Beit Avi Chai presents "KALABAT PURIM": The Kalabat Shabbat Ensemble in a Purim Special

Wednesday, Mar 5, 8:30 PM

Did you miss them?
The successful ensemble returns home with a special for the Book of Esther, noisemakers and Purim carnivals.
Where did Vashti disappear? Which one of Haman's sons was saved? And what will we do with all these fancy food gifts?!

Participants:
Jacky Levy
Rosy Richman | Galit Tzabari | Yair Lehman | Meir Foris | Gady Weissbart | Eran Kraus
Songs and melodies: Nadav Vikinsky Price: NIS 60, students: NIS 30

This event will be broadcast live on the BEIT AVI CHAI website
This is a Hebrew-language only event.
To Beit Avi Chai page
Beit Avi Chai Map
44 King George St



We thought you might like this


The Jerusalem Tourism Map:
Print