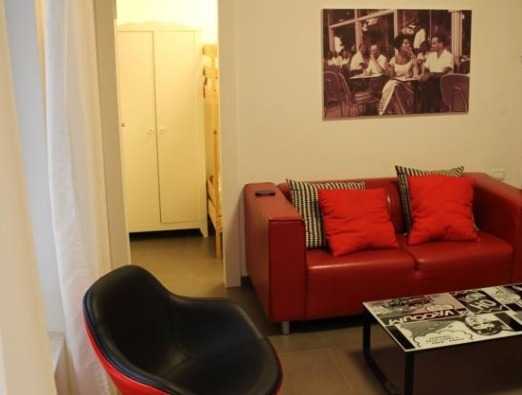 About
As the name implies, Villa Bezalel is located on Bezalel Street, right across the street from Bezalel Academy's original location. Ensconced in the heart of Jerusalem's city center, the apartments are quiet, despite their being around the corner from the Ben Yehuda pedestrian mall - and only minutes away from dozens of Jerusalem's best restaurants, bars and cultural attractions.
Villa Bezalel's suites feature a contemporary design and are perfect for longer-term visitors on a budget: with a modern kitchen or kitchenette in every room and washer/dryer combos on the roof, you'll be able to save shekels by cooking your own meals and doing your own laundry - money you can put towards the many shops and cultural options right outside. In addition, Wi-Fi is available in the entire hotel and is free of charge. Zion Square is only a three minute walk out the front door, and the Old City's Jaffa Gate is only ten minutes down the road on foot.
Facilities
Luggage storage
Babysitting/child services
Laundry
Dry cleaning
Free Wifi
Lift/elevator
Heating
Air conditioning
VIP room facilities
Paid Parking
Choose this hotel if
You want to be right in the heart of bustling downtown Jerusalem
You're planning a longer-term stay in Jerusalem and require apartment-style amenities
You value contemporary design and a modern, up to date kitchen and bathroom facilities
You want to be in the thick of Jerusalem nightlife with the lively Rivlin, Shlomtzion HaMalka and Ben Sira streets only steps away
You'd like to be an easy ten minute walk down Jaffa Road from the Old City
You could use free Wi-Fi
Keep in mind
Booking your hotel room with GoJerusalem.com entitles you a host of money-saving benefits designed to maximize your enjoyment of your stay in Jerusalem. Your GoJerusalem.com-exclusive benefits include:
Free gift packets, including our useful maps and our quarterly guide book.
Free use of our phone-based concierge service for real-time advice from GoJerusalem.com staff experts for the duration of the visit.
Exclusive discounts on the top tours and attractions in Jerusalem and all of Israel. And more!


Bezalel Suites Map
8 Bezalel St
Near Bezalel Suites
2000+ tips and recommendations
No results to show



The Jerusalem Tourism Map:
Print