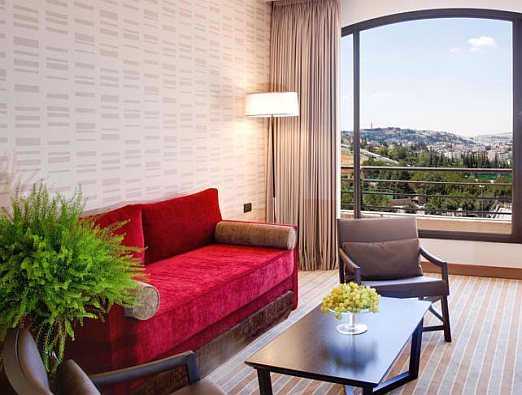 About
Perched in a valley between French Hill and Mt. Scopus in the northeast corner of Jerusalem, the Dan Jerusalem Hotel boasts an enclosed atrium design for the entire building and a veranda with breathtaking views of the Sheikh Jarrah neighborhood, the Old City and downtown. The tradeoff of those outstanding vistas is that reaching downtown requires a cab or bus ride, but those with business at the Hebrew University or in Sheikh Jarrah will find the Dan Jerusalem Hotel wonderful accommodations for the price.
Ample parking is free for guests, many of the rooms come with spacious porches, and they all have safes. Other facilities include a business center, a full bar, a synagogue, enormous function halls, floodlit tennis courts and a well-equipped spa that the Frommer's guide calls "some of the best health club facilities in town."
Facilities
Babysitting/child services
Dry cleaning
Free Parking
Fax / photocopying
Ticket service
Safety deposit box
VIP room facilities
Outdoor pool (seasonal)
Currency exchange
Choose this hotel if
You're a visiting lecturer or researcher at Hebrew University, or are visiting a family member who attends the school
You'd like to take advantage of some of Jerusalem's better spa facilities
You want to take in stunning views of the Jerusalem
You have business or family in Sheikh Jarrah or the other neighborhoods of eastern Jerusalem
You don't mind being beyond easy walking distance of the Old City and downtown (both are roughly half an hour away at a brisk pace)
Keep in mind
Booking your hotel room with GoJerusalem.com entitles you a host of money-saving benefits designed to maximize your enjoyment of your stay in Jerusalem. Your GoJerusalem.com-exclusive benefits include:
Free gift packets, including our useful maps and our quarterly guide book.
Free use of our phone-based concierge service for real-time advice from GoJerusalem.com staff experts for the duration of the visit.
Exclusive discounts on the top tours and attractions in Jerusalem and all of Israel. And more!


Dan Jerusalem Hotel Map
32 Lehi St
Near Dan Jerusalem Hotel
2000+ tips and recommendations
No results to show



The Jerusalem Tourism Map:
Print