Welcome to Colony Restaurant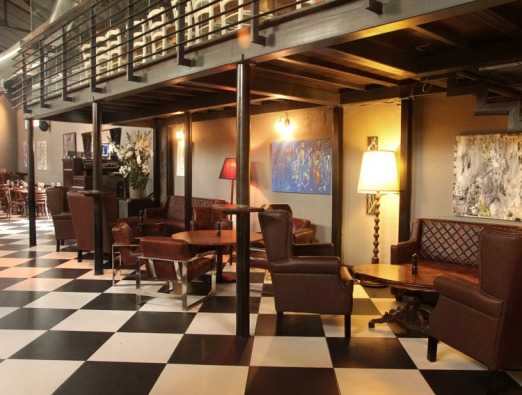 About
"Colony" Restaurant was founded in 2005, in the old railway compound in the Bakaa neighborhood and very quickly became a hot spot and leading establishment in the city. Almost ten years of activity have elevated Colony to be culinary recognized throughout the country, and the focus of entertainment and hospitality to tourists visiting the city. The design of the Colony has maintained the gritty industrial structure of the rail yards from the British rule, while the wooden furniture and stained glass windows add warmth and homeliness; the overall picture is of a Loft in New York with European atmosphere right in the heart of Jerusalem.
The Colony suggests a variety of seating arrangements; special area for events, summer terrace, inside bar and an open bar to enjoy the brisk fresh air of Jerusalem. The bar serves cocktails reminiscent of faraway places and has a Bistro style Mediterranean menu with variations of favorite local dishes, salads, fish, pastas, seasonal soaps and grilled meats. To accompany, a very wide range of wines and a large selection of the best boutique wineries in Israel.
Opening hours
7 Days a week, 12:00 until last customer
Colony hosts live music performances every Thursday night at 22:30 featuring rock ensembles, Israeli music, Jazz, Flamenco, and more.

Entrance is 30 NIS, and advance reservations are recommended - call 02-672-9955.

For your convenience, Colony has a VIP private room available which can host up to 20 diners. The room includes an LCD screen for presentations and can be set up for lectures. Call 02-672-9955 for more information and orders.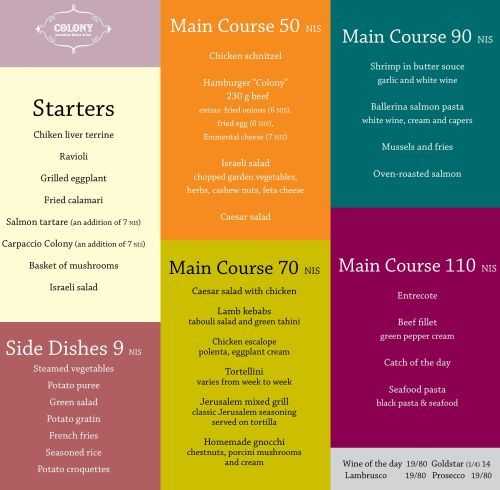 Colony Restaurant Map
7 Beit Lechem Rd
Near Colony Restaurant
2000+ tips and recommendations
No results to show



The Jerusalem Tourism Map:
Print